Reduced price!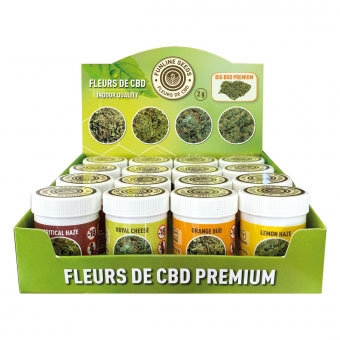 View full size
This display is made up of 4 varieties of flowers whose characteristics are as follows:
Lemon Haze
CBD flowers Lemon Haze come from a sativa-dominant cannabis strain. The Lemon Haze strain is the result of a cross between two crops: Lemon Skunk and Amnesia Haze. The CBD Lemon Haze flower is quite distinctive, with medium-sized buds that are light green in color and dotted with small orange pistils. It is rich in CBD.
Lemon Haze flowers are usually compact and frothy. Its CBD level can vary from one batch to another depending on production, climatic conditions, etc. It is generally a little below 12%.
Orange Bud
The Orange Bud makes one of the most popular varieties of hemp on the market, the discovery of this version is the result of long research, the producers have embarked on the crossing of several varieties of Shunk. It would find its origins from 3 strains: an Afghan indica, a Mexican sativa, Acapulco Gold and a South American sativa, Colombian Gold.
This variety owes its name to its very particular appearance and taste. The flower is medium in size, dense, and adorned with orange pistils, the buds are hard and compact, its frosty appearance due to the CBD crystals makes it even more attractive.
Rich in CBD, this flower is much appreciated for its flavors, its power and its orange appearance.
Critical Haze
The Critical Haze is a CBD flower among the most famous in the world. The fact that it is a Haze strain is of course a big part of it. Critical Haze is a CBD flower of American origin, whose intense aromas will take you on a journey with refreshing notes of citrus and pine.
Of American origin, Critical Haze is the clever cross between a Critical Mass and an Afghan Haze, which gives it an intense effect. Its Sativa dominance accentuates its energizing side.
Royal Cheese
The Royal Cheese CBD is a great classic. This cannabidiol flower takes its name from the very recognizable smell of cheese
The origin of the royal cheese flowers comes from the United Kingdom. This variety is based on the cross between the genetics of Old School Skunk and Afghani therefore has a slight indica predominance.
No customer comments for the moment.
26 other products in the same category:
Customers who bought this product also bought: