Reduced price!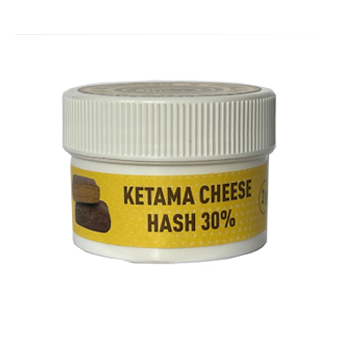 View full size
Its nose is rather discreet but it is in the mouth that it will fully reveal itself with earthy and cheese notes. You will find the flavors of a real street resin.
The CBD level is 30% while the THC level is of course less than 0.2% in accordance with current legislation.
This product is particularly interesting for people who are in the process of withdrawing from THC consumption.
THE BENEFITS OF HASH KETAMA CHEESE 30%
Resin or Hash is a product extremely concentrated in cannabinoids. The effects are therefore increased tenfold compared to flowers. CBD HASH is therefore widely used in different situations such as:
Sleep aid
The high level of CBD and the concentration of the whole range of cannabinoids in the flower make this product a real asset for helping you fall asleep. The relaxation effect is immediate and muscle relaxation is felt quickly.
Antalgic and anti-inflammatory properties
Under no circumstances can our products replace medical treatment. However, many testimonies tend to induce that CBD and Hash in particular would have positive effects in certain chronic pain pathologies. Much research is underway to demonstrate this more scientifically.
Our 30% Ketama Cheese hash is the result of a double extraction: dry extraction of the Pollen from the flowers and supercritical Co2 extraction of the CBD (in the form of wax) from the plants of hemp; so it's a product:
- 100% vegetable
- food grade
- no added binders or synthetics
No customer comments for the moment.
26 other products in the same category:
Customers who bought this product also bought: