Reduced price!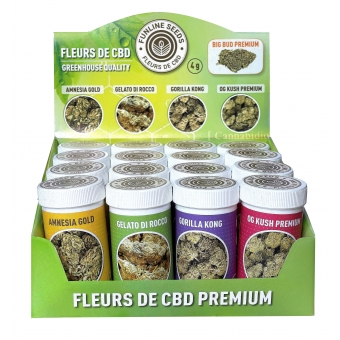 View full size
This display is made up of 4 varieties of flowers whose characteristics are as follows:
Amnesia Gold
We know the Amnesia Gold for its energizing rather than calming effect.
Its effect is stimulating, but in countries where use by combustion is authorised, Amnesia Gold is also known for its virtues helping to fight depression, anxiety and chronic pain
Gelato di Rocco
With beautiful thick buds, the Gelato di Rocco has a scent that connoisseurs love.
This flower is rich in CBG with a rate of 13%, to give you all the benefits of the compound.
It has powerful relaxing effects. In addition, with a beautiful texture, it has very pronounced tastes.
More info on our Gelato di Rocco
The Gorilla Kong
The Gorilla Kong CBD owes its name above all to two specificities:
- Its very sticky trichomes (cannabinoid-producing vesicles).
- Its power, compared to that of an animal as powerful and imposing as the gorilla (it's the King Kong of CBD flowers).
Premium Kush
This flower is said to have relaxing, soothing, anti-inflammatory and pain-relieving properties. The light level of CBD is perfectly suited to occasional users who are looking for a mild product to get started. Ideal for beginners, this CBD flower OG Kush Premium provides a quick, but not overpowering, relaxing sensation.
Thanks to its Indica (75%) and Sativa (25%) heritage, it is particularly effective in to feel relaxed, in a bubble of softness and well-being. Consumed at the end of the day, it would help avoid insomnia and regain quality, deep and regenerating sleep.
No customer comments for the moment.
26 other products in the same category:
Customers who bought this product also bought: