Reduced price!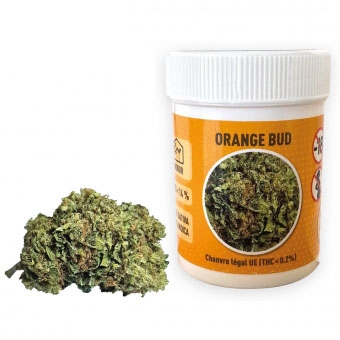 View full size
Features:
Dominant: Sativa

THC: less than 0.2%

CBD: 8 to 10%

Genetics: Indica x Acapulco x Colombian
Culture: GreenHouse
Aromas: Orange, floral, sweet
What is Orange Bud?
Orange Bud is one of the most popular varieties of hemp on the market, the discovery of this version is the result of long research, the producers have embarked on the crossing of several varieties of Shunk. It would find its origins from 3 strains: an Afghan indica, a Mexican sativa, Acapulco Gold and a South American sativa, Colombian Gold.
This variety owes its name to its very particular appearance and taste. The flower is medium in size, dense, and adorned with orange pistils, the buds are hard and compact, its frosty appearance due to the CBD crystals makes it even more attractive.
Rich in CBD, this flower is much appreciated for its flavors, its power and its orange appearance.
Flavours of Orange Bud?
Orange Bud has a delicious citrus flavor blend of nectarine and orange, there is also a hint of honey. You also find this earthy side of the Skunk varieties.
Soft and sweet, Orange Bud CBD will seduce the most demanding CBD consumers.
CBD: legal cannabis in France
CBD (cannabidiol), like THC, is a molecule derived from the cannabis plant. It is natural and used in many countries for therapeutic purposes.
Unlike THC, which is a narcotic, CBD has no psychoactive effect and, therefore, is not addictive.
In France, CBD has been legal since November 2017 as long as it contains no more than 0.2% THC. Its modes of consumption are varied: oils, creams, infusions, vapes...
But it is forbidden to smoke it in any form other than e-liquid with an electronic cigarette.
How to consume CBD flowers?
CBD flowers are extracted from the cannabis plant and can be consumed directly as a food supplement. You can choose them for their CBD content or their flavors, but there are different methods of consumption.
To take advantage of the benefits of the Orange Bud flower, we recommend:
Infusion: Orange Bud flowers can be infused

Directions for use: In boiling water, add a fatty substance such as milk (vegetable or animal), infuse your flowers in a tea ball.
No customer comments for the moment.
26 other products in the same category:
Customers who bought this product also bought: