Reduced price!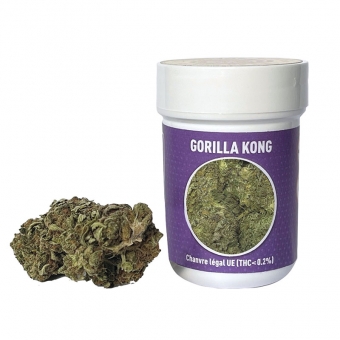 View full size
The Gorilla Kong CBD owes its name above all to two specificities:
- Its very sticky trichomes (cannabinoid-producing vesicles).
- Its power, compared to that of an animal as powerful and imposing as the gorilla (it's the King Kong of CBD flowers)
Gorilla Kong: its effects
Gorilla Kong cannabis flowers are known for their high CBD content.
Cannabidiol, whose acronym is CBD, is a cannabinoid found in hemp. This molecule, now legal, is recognized for its relaxing and soothing properties. Therefore, the Gorilla Kong will cause the consumer a marked relaxation effect.
Its balanced Indica and Sativa origins make it an interesting CBD flower to benefit from the benefits of both families of cannabis flowers.
Quality CBD Flower
This CBD flower is grown in a greenhouse (GreenHouse). Thanks to this cultivation method, it is possible to have a greater development and better control of the plant during all its growth phases, and in particular during the flowering phase.
Our Gorilla King flowers come from natural agriculture guaranteed without chemical treatment and without additives. By choosing your CBD flowers on our shop, you are guaranteed to receive a quality product that respects the environment and health. No terpenes or other enhancers are added.
No customer comments for the moment.
26 other products in the same category:
Customers who bought this product also bought: