Reduced price!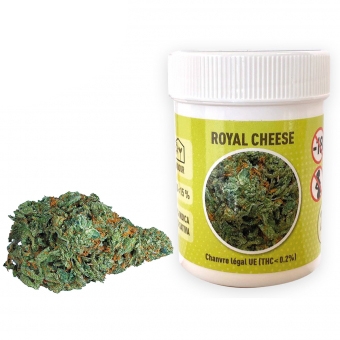 View full size
Features:
Dominant: Indica

THC: less than 0.2%

CBD: < 15%

Genetics: Old School Skunk x Afghani
Culture: Indoor
Aromas: Fruity and cheesey
What is Royal Cheese?
The Royal Cheese CBD is a great classic. This cannabidiol flower takes its name from the very recognizable smell of cheese
The origin of the royal cheese flowers comes from the United Kingdom. This variety based on the cross between Old School Skunk and Afghani genetics therefore has a slight indica predominance.
Flavors of Royal Cheese?
The flowers of CBD Royal Cheese, with their very strong smell, have an incredible flavor. Inimitable for cheese lovers. Fruity and cheesy smell.
CBD: legal cannabis in France
CBD (cannabidiol), like THC, is a molecule derived from the cannabis plant. It is natural and used in many countries for therapeutic purposes.
Unlike THC, which is a narcotic, CBD has no psychoactive effect and, therefore, is not addictive.
In France, CBD has been legal since November 2017 as long as it contains no more than 0.2% THC. Its modes of consumption are varied: oils, creams, infusions, vapes...
But it is forbidden to smoke it in any form other than e-liquid with an electronic cigarette.
How to consume CBD flowers?
CBD flowers are extracted from the cannabis plant and can be consumed directly as a food supplement. You can choose them for their CBD content or their flavors, but there are different methods of consumption.
To take advantage of the benefits of the Royal Cheese flower, we recommend:
In infusion: Royal Cheese flowers can be infused

Directions for use: In boiling water, add a fatty substance such as milk (vegetable or animal), infuse your flowers in a tea ball.
No customer comments for the moment.
26 other products in the same category:
Customers who bought this product also bought: