Reduced price!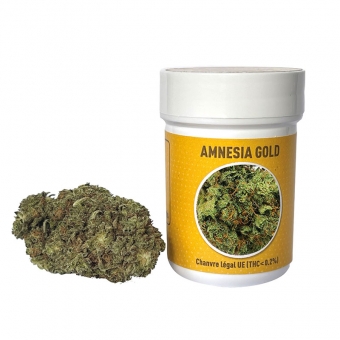 View full size
Features:+
Dominant: Sativa

THC: less than 0.2%

CBD: 6.88%

Genetics: Amnesia x Lemon Skunk x Jack Herer
Culture: GreenHouse
Aromas: Lemon - Pepper - Woody
What is Amnesia Gold?
Among the mythical varieties of legal cannabis, Amnesia Gold is one of the most widespread in the world. Coming from a complex heritage, this Sativa-dominant hybrid hemp flower comes from Thailand, Hawaii, Jamaica and Cambodia. There are also some Indica varieties from Afghanistan and South Asia.
Rich in CBD, Amnesia Gold is appreciated as much for its flavor as for its aesthetics. The magnificent trichomes of the flower which contain terpenes and cannabinoids take on a crystalline and hairy robe. Like all Haze variety CBD flowers, a brown resin drapes compact and thick branches. Nevertheless, its color is quite light, going from green to silver, to finish reddish when ripe.
Flavours of Amnesia Gold
Amnesia Gold has the particularity of containing a large amount of terpenes, those natural aromas that provide flavor to the variety of cannabis. It is recognizable by its very marked earthy and vegetal aromas, providing a powerful flavor in the mouth.
You will find in these CBD flowers notes of lemon and pepper, sometimes wood and pine for a more full-bodied effect, resulting in a nicely balanced profile.
CBD: legal cannabis in France
CBD (cannabidiol), like THC, is a molecule derived from the cannabis plant. It is natural and used in many countries for therapeutic purposes. It soothes disorders such as anxiety and pain, and is said to help alleviate certain side effects of serious illnesses.
Unlike THC, which is a narcotic, CBD has no psychoactive effect and, therefore, is not addictive.
In France, CBD has been legal since November 2017 as long as it contains no more than 0.2% THC. Its modes of consumption are varied: oils, creams, infusions, vapes...
But it is forbidden to smoke it in any form other than e-liquid with an electronic cigarette.
How to consume CBD flowers?
CBD flowers are extracted from the cannabis plant and can be consumed directly as a food supplement. You can choose them for their CBD content or their flavors, but there are different methods of consumption.
To enjoy the benefits of the Amnesia Gold flower, we recommend:
In infusion: Amnesia Gold flowers can be infused

Directions for use: In boiling water, add a fatty substance such as milk (vegetable or animal), infuse your flowers in a tea ball.
No customer comments for the moment.
26 other products in the same category:
Customers who bought this product also bought: