Reduced price!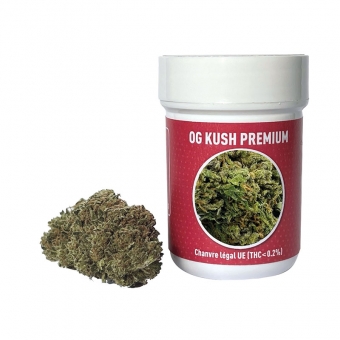 View full size
Since its appearance on the cannabis market, the OG Kush Premium variety, from GreenHouse culture, has not ceased to be talked about. Adored by all, this variety is certainlyone of the most popular in Dutch coffee shops.
According to hemp cultivation experts, it is a smart mix between Pakistani Kush, ChemDawg, and Lemon Thai. This genetic heritage could explain this incredible taste of pine and lemon which does not leave consumers indifferent. Today, you have the opportunity to enjoy this mythical variety in its CBD version (cannabidiol), without THC (tetrahydrocannabinol), and therefore without any psychoactive effect.
The benefits of CBD OG Kush Premium flowers
With its 7% CBD rate, this OG Kush Premium CBD flower is said to have relaxing, soothing, anti-inflammatory and pain-relieving properties . This light level of CBD is perfectly suited to occasional consumers who are looking for a mild product to get started. Ideal for beginners, this OG Kush Premium CBD flower provides a quick, but not overpowering feeling of relaxation.
Thanks to its Indica (75%) and Sativa (25%) heritage, this CBD flower is particularly effective for se< span> feel relaxed, in a bubble of softness and well-being.
The scent of CBD OG Kush Premium flowers
Highly appreciated for its exceptional taste, this CBD OG Kush Premium flower delivers a characteristic scent of pine and lemon.Itsintense flavors are really unanimous among regular consumers. To taste this delicious flower of CBD OG Kush Premium, you can incorporate it into your dishes, your drinks, or inhale it through a quality vaporizer.
Suggested modes of consumption
To consume this cbd flower (in countries where consumption by combustion is prohibited), we recommend 3 methods:
Vaporizing: Set your vaporizer to a temperature above 170 degrees.
In infusion: infuse your cbd OG Kush Premium for 10 minutes with a fatty substance (oil, milk).
In the kitchen: ideal in your salads or hot dishes.
No customer comments for the moment.
26 other products in the same category:
Customers who bought this product also bought: