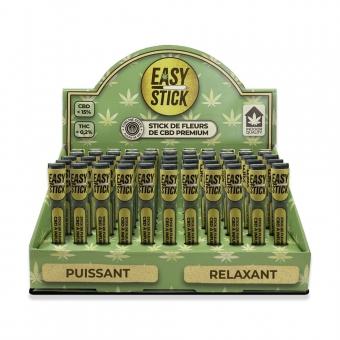 View full size
Pre-rolled CBD sticks from the EasyStick brand, tobacco-free, made from Trim of premium quality CBD flowers and leaves. It is the ideal product for CBD consumers. This Infusion Stick is in King Size version.
For people who have had a busy day at work, or who come home stressed or tired, the CBD stick is ready to be consumed, all you have to do is consume it.
CBD infusions make it very easy and for any type of consumer to discover the effects of CBD without risk and in a gourmet way. Cannabidiol infusions are known to have a relaxing and de-stressing effect.
Important information about CBD Sticks from the Easystick brand
Sale prohibited to minors.
This product must not be smoked.
Not suitable for pregnant women.
Do not leave this product within the reach of children.
It is a natural product, it happens that from one harvest to another the flowers differ slightly.
Funline Laboratory cannot be held responsible for any use other than that described above.
No customer comments for the moment.
26 other products in the same category:
Customers who bought this product also bought: