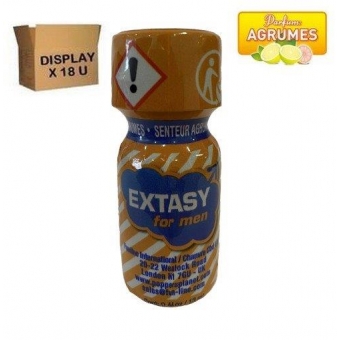 View full size
The effects of Extasy For Men, the aphrodisiac exhilarating powerful, are mainly:
- Euphoria
- Aggravated sensualism
- Vertiginous and stimulating draft
- Feel good
- Sensation of heat
- Désinhibition.
- Muscular relaxation which facilitates among others the penetration (vaginal or anal) during the sexual act

However, poppers was used up to here especially by an essentially gay(joyeux) population; thanks to Extasy For Men, produced, specially conceived, studied, and elaborated for the heterosexual reports(connections), this exhilarating aphrodisiac powerful is available and adapted for all.
Fragrance: citrus
Sold by boxes of 18 u.
Composition: nitrite of propyl
No customer comments for the moment.
30 other products in the same category:
Customers who bought this product also bought: