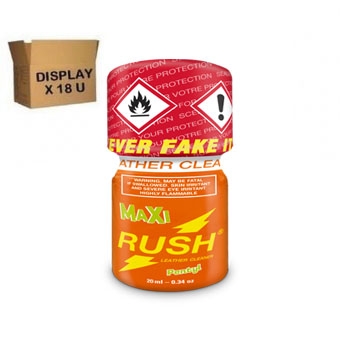 View full size
Until' now the Rush range was only made up of propyl or amyl poppers but we decided expand the range to offer a complete offer with this very first Maxi Rush poppers with pentyl nitrite.

The poppers at; pentyl nitrite base are well known to be overpowering and the feeling of the effects is almost instantaneous. They also stand out because they give off a sweeter smell than propyl amyl nitrite poppers. Which makes them ideal for your consumers who don't necessarily like the strong smell of propyl, amyl and butyl nitrite poppers.

Your customers will be able to take this superb bottle of Maxi Rush Pentyle 20 ml poppers with them and they will be happy whether it is at a festival, concert or simple evening with friends. Either way, they're sure to have a great time with these Maxi Rush Pentyle Poppers in the brand new and super convenient 20ml format.

Why buy Maxi Rush Pentyle Poppers 20ml?
This new poppers from the Rush Pentyle brand is composed of: of 100% pentyl nitrite, making it very powerful. Because it is very strong, it is recommended experienced poppers consumers. For novices, we recommend our ranges of less powerful but more suitable propyl poppers.

At Rush, quality products is very important, that's why PoppersPlanet.fr only offers you authentic products, designed according to strict standards and at the best prices! The brand of Rush poppers is at the cutting edge of quality, and this first product in the range is a pure marvel: a pure, intense and above all very (very) strong pentyl poppers.

This Maxi Rush poppers also stands out with its XXL neck allowing your customers to inhale large quantities of it. suddenly! We've tried it! and he was immediately adopted by the whole team and classified as the best novelty poppers of this year 2023. So what are you waiting for?

The Rush brand of poppers is now available in pentyl nitrite. Pentyl nitrite poppers are the strongest poppers on the market. ! Far ahead of propyl nitrites and elbow to elbow; elbow with amyl nitrites, they offer super powerful effects and fast and efficient highs!

Pentyl Nitrite vapors are much less volatile, allowing Pentyl Nitrite poppers to last longer!

The effects of pentyl nitrite poppers are very powerful but they give off a less marked smell than propyl and amyl nitrite poppers.

What are the effects of Poppers Maxi Rush Pentyle 20ml?
- Powerful euphoric
- Instant Effects
- Fast and vertiginous climb
- Feeling of well-being and power
- XXL neck for incomparable sniffs
- Double capacity

And like all very powerful poppers, the Maxi Rush 20 ml pentyl poppers is a powerful vasodilator, it facilitates the relaxation of soft tissues (vagina and rectum), which facilitates penetration. It is suitable and even recommended for the hottest moments and it allows total disinhibition for maximum sensations!

Brand: Maxi Rush
Composition: Pentyl nitrite
20 ml bottle (Boxes of 18 bottles)

(Please note that some products may be freely available in some countries, but prohibited in others, even within the EU. Each customer must therefore check the conformity of the imported product with its national law).
No customer comments for the moment.
30 other products in the same category:
Customers who bought this product also bought: