Reduced price!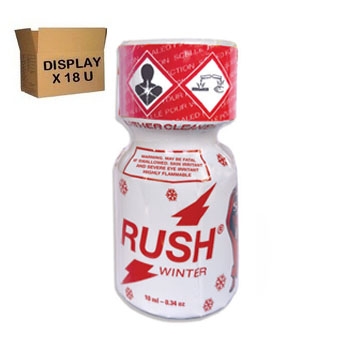 View full size
RUSH WINTER 10ML AMYLE 
Specially created for winter 2021, Rush Winter 10ml is an ultra strong amyl poppers, super potent; it is perfect for both top and bottom; For party people, it procures powerful surges of heat, and awakens deep impulses. Highly recommended for thrill seekers, it is part of the RUSH family, the world's best-selling brand of poppers: a guarantee of quality!
This aphrodisiac awakens the most hidden senses, releases the sexual impulses, and stimulates desire, while allowing to get rid of its inhibitions.
- Immediate effect
- Powerful effect
- Vertiginous euphoria
- Amplified orgasm
- 100% amyl
(Please note, some products may be freely sold in some countries, but prohibited in others, even within the EEC, each customer must therefore check the conformity of the imported product with its national legislation)
10 ml bottles
Boxes of 18 u.
Composition: amyl nitrite
No customer comments for the moment.
30 other products in the same category:
Customers who bought this product also bought: