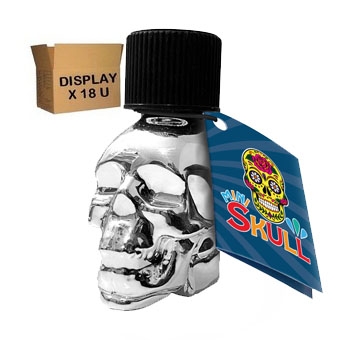 View full size
These mini skull poppers live up to their name. Thanks to its 100% Propyle formula, it is one of the strong poppers particularly designed for parties and sexual activity.
After the success of the Skull 25 ml amyl, it completes the Quick Silver range with a smaller but equally crunchy format, and in a propyl version, the best-selling mixture in France. The propyl mixture from Quick Silver has a very characteristic odor and causes rapid and powerful sensations.

Consequently, it will be the ideal ally of your customers for a festive, hot and naughty evening. So they will be sure to make an impact by releasing this brand new modern and superb poppers.

This 15 ml propyl mini skull poppers will provide:
- Powerful feelings of euphoria
- An increase in performance
- An amplification of the libido

Allow your customers to join the dark side of pleasure with the Mini Skull Poppers 15ml, contained in a very pretty 15ml silver skull, quickly discover this brand new poppers and share its powerful effects! Made in France. It's small but powerful!
Composition: Propyl nitrite
15ml bottles
Boxes of 18 units
(Please note, certain products may be over the counter in certain countries but prohibited in others within the EEC, each customer must therefore check the conformity of the imported product with their national legislation)
No customer comments for the moment.
30 other products in the same category:
Customers who bought this product also bought: