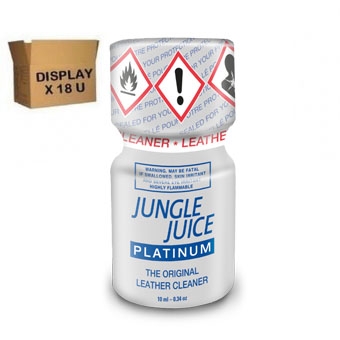 View full size
Rediscover one of your favorite poppers, the Jungle Juice Platinum in 10 ml format! Your customers loved it in 25 ml format, now is the time to let them discover it in a smaller format that is much more practical but just as powerful and fun.
The Jungle Juice Platinum 10ml popper bottle is easy to use. handle and very easy to handle. transport while remaining very discreet, making it ideal for parties, concerts, festivals or any other fun occasion.
Don't worry, the 10ml poppers bottle will of course be smaller but thanks to its very wide opening, your customers will be able to inhale large quantities of it. suddenly, they will not feel any difference with the Poppers Jungle Juice Platinum 10 ml format. Thrills guaranteed! Its small size won't have any negative impact on the efficiency. of this bottle of poppers.

Why buy Jungle Juice Platinum 10ml?
You already have; surely heard about the strong potency of products from Jungle Juice. This Poppers Jungle Juice Platinum 10ml is a unique juice with a strong smell that will give you relaxation and euphoria. Designed with double-filtered, therefore ultra-pure propyl nitrites, it will put anyone who inhales it in an unexpected state. in just a few minutes for extraordinary moments.
The poppers at; based on propyl nitrites are perfect for all levels! Whether your customers are experts adept at taking poppers and connoisseurs of their effects or a curious person and beginner in the matter, the Jungle Juice Platinum 10 ml poppers is made for everyone.
In addition, this poppers manufactured in France and recognized worldwide by the Funline Laboratory will warm your body and senses, whatever the outside temperature. Its French manufacture is obviously the guarantee of a quality poppers. Indeed, we only offer you poppers à à grave; base of authentic products and designed according to very strict standards and all at the best prices.
Finally, this unique 10ml bottle from the legendary Jungle Juice brand is one of the most powerful vasodilators on the market. ! But not only… He is also highly recognized for his ability to to create a sensual and stimulating atmosphere with its scent and its highly concentrated composition!
Our Jungle Juice popper bottles also have aphrodisiac properties. They are suitable for the hottest moments and allow total disinhibition for optimal sensations.
Have no fear of possible liquid leaks with these anti-leak caps specially designed for these products.

What are the effects of Poppers Jungle Juice Platinum 10ml?
- Disinhibiting like no other
- Endurance increased tenfold
- Shared hilarious pleasures
- Powerful orgasms
- Éhuge hot flashes
- Instant Effects
- Fast and vertiginous ascent
- Feeling of well-being and power
Order this brand new Jungle Juice Platinum 10ml poppers bottle now and get the best prices. Our parcel shipments are discreet and fast.
Brand: Jungle Juice Platinum
Composition: Propryl nitrite
10 ml bottle (Boxes of 18 bottles)
(Please note that some products may be freely available in some countries, but prohibited in others, even within the EU. Each customer must therefore check the conformity of the imported product with its national law).
No customer comments for the moment.
30 other products in the same category: