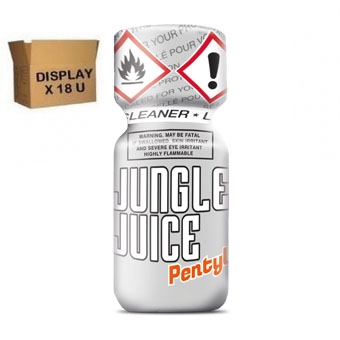 View full size
Whatever their capacity, the Jungle Juice popper bottles all have an extra wide opening allowing you to inhale the poppers in large quantities. all at once and enjoy the sensations to the max.
Speaking of sensation, the poppers at agrave; pentyl nitrite base are recognized to be overpowering and the feeling of the effects is almost instantaneous. This is why Jungle Juice had to expand its range of poppers in order to offer you a complete offer, adapted to your needs. all needs.
Why buy Jungle Juice Pentyle Poppers?
This new poppers from Jungle Juice Pentyle is composed of: of 100% pentyl nitrite, making it very powerful. Because it is very strong, it is recommended experienced poppers consumers. If your customers are rather novices, we recommend our ranges of less powerful but more suitable propyl poppers.
Jungle Juice offers you quality products, authentic and designed according to strict standards, this is of course always the case with this new range of poppers. pentyl nitrite base and its 10, 15 or 25 ml bottles.
Pentyl nitrite poppers are the strongest poppers on the market. ! Far ahead of propyl nitrites and elbow to elbow; elbow with the amyl nitrites, they offer hyper powerful effects and fast and effective rises, incredible sensations at the end of the day. each inhalation.
Pentyl nitrite vapors are much less volatile, allowing poppers to pentyl nitrite base to keep longer! Your customers will therefore get their money's worth with this new range of Jungle Juice Pentyle poppers.
The effects of pentyl nitrite poppers are very powerful but they give off a less marked smell than propyl and amyl nitrite poppers.
We offer the Jungle Juice pentyle poppers in its three formats to better meet your needs. your request. Choose from our 10, 15 and 25ml pentyle popper bottles, each size catering to your needs. a very precise situation: the small 10 ml is discreet and easy to handle. carry, in a pocket or a bag; the medium 13ml is ideal for a sex plan or to create a buzz during a dinner with friends: the atmosphere will immediately be more festive and unbridled; finally the large 25 ml is the bottle of poppers for sharing and conviviality, it is made to turn and circulate from hand to hand, it's the bottle of friendship, or more if you like …
What are the effects of Poppers Jungle Juice Pentyle?
- Energizing
- Instant Effects
- Rapid and vertiginous climb
- Feeling of well-being and power
The Jungle Juice Pentyle poppers are also very disinhibiting, guaranteeing intense and fun moments with your partner(s), your customers will have great intimate and fun moments.
Buy now this brand new range of Jungle Juice Pentyle poppers available in 10, 15 and 25ml bottles. You will be able to please; your customers in all situations with these different bottle formats whether they wish to be rather discreet with the 10 ml poppers bottle or prefer the quantity per bottle with the 20 ml popper formats from Jungle Juice. Our products are offered to you at the best prices, defying all competition. In addition, all our packages are sent very quickly in discreet packaging.

Brand: Jungle Juice Pentyl
Composition: Pentyl nitrite
10 ml bottle (Boxes of 18 bottles)

(Please note that some products may be freely available in some countries, but prohibited in others, even within the EU. Each customer must therefore check the conformity of the imported product with its national law).
No customer comments for the moment.
30 other products in the same category: