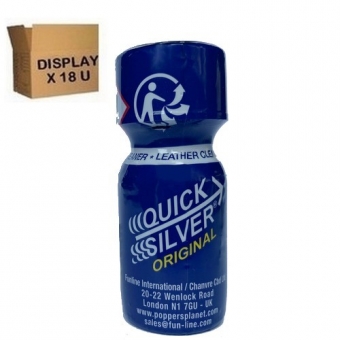 View full size
QuicK silver 13 ml 
Finally the Quick Silver 13ml returns with its new formulation, a pure and enriched propyl; Fans of the product will love this brand new version, with more strength, with more potency, which increases desire and libido; A concentrate of pure pleasure.
Quick Silver is a safe bet and one of the best-selling brands in the world; This aphrodisiac awakens the senses, releases the sexual drives, stimulates desire, while allowing to get rid of its inhibitions. Powerful immediate effect
-   Boosts sexual performance
-   Increase desires and senses
-   Feeling of well-being
(Please note, some products can be sold over the counter in certain countries, but prohibited in others, even within the EEC, each customer must therefore check the conformity of the imported product with its national legislation.
13ml bottles
Boxes of 18 u.
Composition: propyl nitrite
No customer comments for the moment.
30 other products in the same category:
Customers who bought this product also bought: