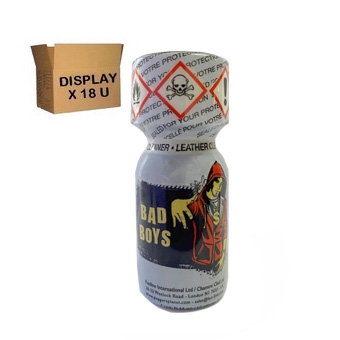 View full size
100% AMYL POPPERS
Bad Boys is the poppers of scum and rappers budding!

. Exclusively in Funline.

This stimulant both physical and sexual is a powerful disinhibiting, and a powerful aphrodisiac; It releases impulses, stimulates desire, and gives energy instantly. Powerful immediate effect. BadBoys is the strongest popper on the market, particularly appreciated by thrill seekers.

Composition: Amyl nitrite
(Caution, some products can be freely sold in certain countries, but forbidden in the others, within the EEC, every customer thus has to verify the correspondence of the product imported with his national legislation) .
Bottles of 13 ml.
Boxes of 18 u
No customer comments for the moment.
30 other products in the same category:
Customers who bought this product also bought: