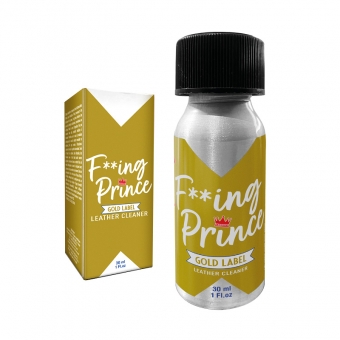 View full size
The F** Prince 30 ml poppers are back but in a Gold Label version for even harder and more insane effects. Made from pentyl this time, the F** Prince Gold Label poppers will develop your customers' libido and all their senses after each inhalation. They won't be able to go wrong, they will recognize it by its aluminum bottle and its all-gold design, a royal design for an equally royal poppers.
Its aluminum bottle makes it an unbreakable popper and its unique blend, with a gently sweet flavor, makes it an incomparable popper with a powerful aroma! Ideal for completely disinhibiting them during their romantic evenings with their crush, it will transform them into a prince of sex. Your clients will need to be ready to give and receive pleasure all night long with the F** Prince Gold Label pentyle poppers.

The ultimate excitement and release of their most intense desires will be within their reach with this new version of the F** Prince. Made from an innovative blend of pentyl nitrite, it is specially designed to break down barriers and intensify the most sensual moments. It will quickly become their new evening companion as it promises unforgettable experiences. A future bestseller!
Composition: Pentyl nitrite
30 ml bottle
Sold individually

(Please note, certain products may be over the counter in certain countries but prohibited in others within the EEC, each customer must therefore check the conformity of the imported product with their national legislation)
No customer comments for the moment.
30 other products in the same category:
Customers who bought this product also bought: