Reduced price!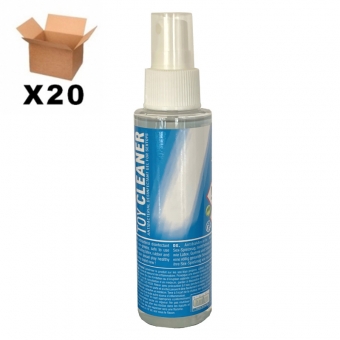 View full size
Toys Cleaner Funline - Cleaner for Sex Toys,
An antibacterial and antiseptic cleanser with lemon and eucalyptus essential oils
Disinfectant action tested,
Spray format,
No need to rinse,
Made in France
Why use the Toys Cleaner Funline
• cleaning spray for your sex toys: keep your toys clean and always ready for the next use
• Disinfectant action tested
• Compatible with silicone sex toys
• Does not require rinsing
• 50 ml or 100 ml format
• Directions for use: apply 2/3 sprays to the clean sex toy, leave on for a few minutes, then wipe with a dry cloth
• Made in France
The many advantages of the Toys Cleaner Funline
• Cleans and disinfects your most intimate accessories in silicone, latex, rubber or metal and reduces the risk of infection thanks to the antibacterial and antiseptic properties of our formula with lemon and eucalyptus essential oils. Thanks to its formula it leaves on your accessories a sweet scent very pleasant (feeling of freshness and cleanliness).
• Extends the life of your intimate accessories. Its formula keeps them in perfect condition longer.

• Easy to use: Its spray ensures that the product is sprayed evenly on the sex toy, and prevents dripping on the hands and stains.

• Easily removes traces of aqueous and silicone lubricants
• Can be used on the skin.
Product for external use
• The Toys Cleaner brand is manufactured in France in accordance with all European regulations that guarantee safe and high quality products.

COMPOSITION:

- Active substances: Ethanol (CAS RN: 64-17-5): 81.6% (v/v)
- Composition: 81.6% of vegetable alcohol, not denatured by phthalates.
- 3 essential oils (lemon, eucalyptus and peppermint).
- Contains trans-Menthone and d-Limonene (naturally found in essential oils).
No customer comments for the moment.
10 other products in the same category: